https://www.abc.net.au/news/2021-04-29/india-brazil-us-turkey-mexico-covid-19-death-toll/100100020
…
Brazil's number of daily deaths has been trending down as India's trends upwards, with both countries recording similar numbers each day.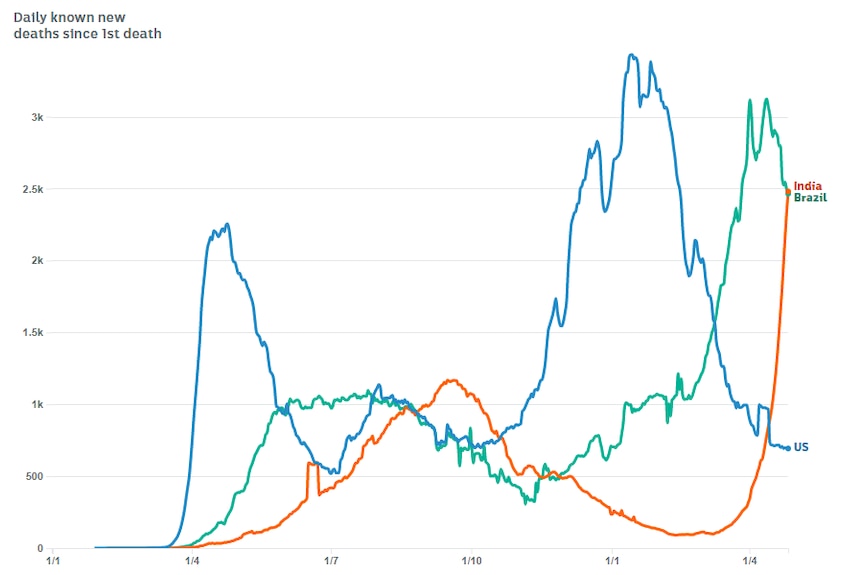 But Brazil and India are vastly different countries. Brazil's population is only 211 million, which is just a fraction of India's.
On Monday, Brazil's health regulator Anvisa rejected importing the Russian-made Sputnik V COVID-19 vaccine requested by state governors. A crucial issue … was the presence of adenovirus in the vaccine that could reproduce, a "serious" defect.
The Russian Direct Investment Fund (RDIF),… rejected Anvisa's comments, saying the shot's safety and efficacy had been assessed by regulators in 61 countries which approved it for use.
Russian scientists say Sputnik V is 97.6 per cent effective against COVID-19 in a "real-world" assessment based on data from 3.8 million people,.. The European Union's regulator, the European Medicines Agency (EMA), is currently reviewing the shot and its manufacturing process,…
Just 13 per cent of Brazil's population has received at least one dose of a COVID-19 vaccine.